~ NEW - JUDI'S AUTHOR PAGE ON AMAZON! (Click Here)
* * * * *
UPCOMING EVENTS
~ Psychic Fair - Aug 22nd, Wapiti Retreat, North East, MD. 10 AM to 5 PM. $25. admission. Judi will offer psychic readings using Tarot & AstroDice, $20/15 minutes. Event to benefit Chesapeake Feline Assn. Advanced tickets and info: Mary at af127@comcast.net
~ SPIRIT GUIDES, ANGELS, ELDERS ~ ARE THEY SPEAKING TO US? Monday Aug. 24th, 6:00-8:00 PM, Dover Public Library, Free discussion.
~ "DOORS, KEYS, BRIDGES, PORTALS: HOW TO REACH YOUR INNER GUIDES & HIGHER SELF" - Discussion of The Four Steps of "The Wisdom Keys". Friday Oct 9th, 6-7:30 PM, at Cecil College, Elkton MD.
~ TRACING PAST LIVES & KARMA IN YOUR CHART ~ Look for Judi's insights in Dell Horoscope magazine, November 2015 issue, on newsstands everywhere.
* * * * *
NEW PODCASTS
~ "New Perspectives" Radio Show with Judi Thomases and host Paul Lamb - "USE TAROT'S WISDOM TO MAKE BETTER CHOICES" (broadcast on June 11th 2015 on Rockland World Radio).
(Click Here)
~ "THE WISDOM KEYS: A CHANNELER'S QUEST REVEALS FOUR STEPS TO YOUR HIGHEST SELF" Discussion of luck vs merit, karma, the role of choice, and the four changing worldviews as you progress in your evolution.
(Click Here)
~ "HOW TO STAY IN THE PRESENT MOMENT" based on The Wisdom Keys
(Click Here)
~ "IT'S IN THE STARS!" - DISCOVERING YOUR SOUL'S AGENDA with JUDI THOMASES - In her new book, "The Wisdom Keys" Ms. Thomases guides the reader into higher realms of consciousness where we come face to face with our true selves. On this show we will explore our soul nature and our individual journey using astrology as our guide.
(Click Here)
* * * * *
~ JUDI IS NOW A CONTRIBUTING BLOGGER ON JENNINGSWIRE.COM (Click Here)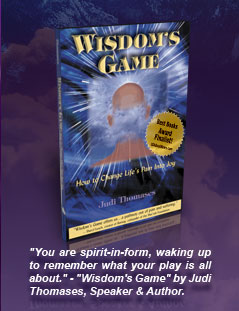 Every issue of "Spirit's Words" contains a FREE MONTHLY CHANNELING by The Brotherhood of Light Workers (Judi's spirit guides), FREE MONTHLY ASTRO PREDICTIONS, and BOOK REVIEWS.